Enhance your IVI project with a variety of third party add-ons, from user interface to remote control and connectivity. Click the links below or explore the sub pages in this section to see a few available options:

RealVNC* offers commercial licenses for embedded remote control and access capability in third-party products and services. RealVNC provides MirrorLink* support; learn more here.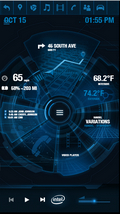 Modello* is a proof-of-concept HTML UI designed specifically for IVI. It has several applications that would commonly be found in a vehicle and utilizes a large array of Tizen APIs. Find more information here.


NTT DATA MSE* provides Miracast* support for connectivity.
Miracast enhances the link between smart phones and the IVI system. Learn more here.

Viulib* from Vicomtech-IK4* is a set of precompiled libraries that simply the biulding of complex computer vision, machine learning and artificial intelligence solutions. Learn more here.

​
Tizen IVI ZENRIN DataCom 3D Navigation Engine demonstration showcases the smooth animation and beautiful interface available on Tizen IVI. The Navigation Engine boasts native support rendered in HD with OpenGL. The 3D map appears automatically at startup where the user can easily set the destination by just a touch of the screen.  The system also features ultra-smooth transitions, lightning fast rendering of map data and ZENRIN DataCom's new easy-to-follow lane guidance functionality. Learn more here.