Are you ready to bring your Tizen mobile app to life?
Tizen Project and BeMyApp are thrilled to bring you Tizen DevLab Series - Europe and US edition! We are traveling across the globe for an all-day workshop to bring you up to speed with Tizen OS.
Do you have what it takes to create the next Tizen mobile app? Or do you already have an app that you would like to have on Tizen app store? From novice to expert, programmers to innovators - this workshop is for you. Tizen and Samsung experts will help you one-on-one to bring your ideas to life and make your apps dreams a reality. Prizes and food on us!
Think you have what it takes? Create a Tizen mobile app, then submit it to Tizen Store and enter our Tizen DevLabs Challenge after the event - you could win cash!  Be a part of the evolution of the mobile experience with Samsung and BeMyApp!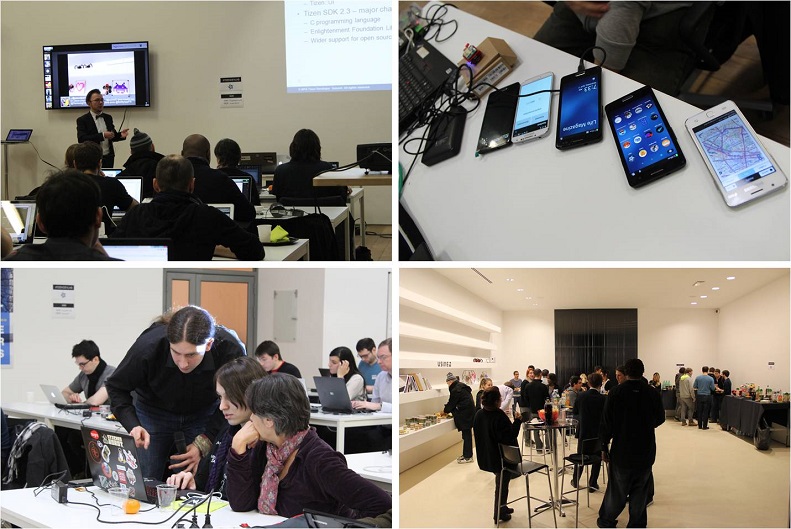 Challenge Prizes
$2,500 for the top new app and the top existing app that has been ported to Tizen and submitted to Tizen App Store, as evaluated by a panel of judges.
$1,000 for the two runner-up apps in the new app category, and for the two runner-up apps in the ported app category.
Complete rules available at https://www.tizen.org/sites/default/files/page/paris-rules.pdf
Our Paris Tizen Experts
Kamil Grondys
Ashraf Samy Hegab
Where is it?
Usine IO
181 Rue du Chevaleret 
75013 Paris
France
How does it work?
Participate in a Tizen DevLab
Pick your city and participate in that city's Tizen DevLab day. You must attend a Tizen DevLab and submit the entry and completion forms in order to be eligible to enter the Challenge or have an opportunity to win a prize (complete rules available at https://www.tizen.org/sites/default/files/paris-rules.pdf).
Complete Tizen DevLab App Challenge entry form
To enter the Challenge, submit your name, contact information, and a description of your app on the entry form before 11:59 pm CET on February 28, 2015.
Submit your app to Tizen App Store
You must submit your app to Tizen App Store before 11:59 pm CEST on April 27, 2015.
Fill out the completion form
Before the end of the entry period at 11:59 pm CEST on April 27, 2015, submit the app's Content ID from Tizen Store through the completion form. See the official rules for more details.
To be eligible your app must achieve Tizen 2.3 certification and obtain the "For Sale" status on your app before 11:59 pm CEST on April 30, 2015. Tizen Store certification can take up to two business days, so you will have until 11:59 pm CEST on April 30, 2015 to be notified whether your app was certified.  Please note this can take a few tries, so we recommend you submit before the deadline!
Criteria
You must have an English version to qualify, the selection of winners will be judged on 4 criteria specific to each category for new apps, and ported apps.
Entertainment/Usefulness
Is it useful or enjoyable to the user?
Visual Design
Does it have an aesthetic and attractive graphic design?
User Experience
Is it easy to use, with a clear and user-friendly interface with good navigation?
Innovation
Ddi you think outside the box to come up with something new and creative?
*For ported apps functional/visual similarities with the original app will be taken into the evaluation criteria.
Technical resources
For all questions you might have on the platform Tizen you can go to http://developer.tizen.org
NO PURCHASE NECESSARY TO ENTER OR WIN. Internet access is required to enter. Challenge is a skill-contest open to registered Tizen DevLabs event attendees who agree to be bound to the Rules, are under no conflicting contractual or legal restriction to enter, and who 18 or are the legal age of majority, at the time of entry, to form valid contracts in their eligible Country. CHALLENGE IS VOID TO RESIDENTS OF U.S. EMBARGOED COUNTRIES AND WHEREVER RESTRICTED BY, WITHOUT LIMITATION, FILING OR REGISTRATION REQUIREMENTS, OR OTHERWISE PROHIBITED OR RESTRICTED BY LAW. Participants may enter more than once, in one or more Category, but all entries must be eligible and entirely unique and different (in Sponsor's determination). Limit one (1) Category Prize per Participant, whether an individual or business entity, and regardless of the number of entries submitted. For entry requirements, limitations, and details see complete official rules at https://www.tizen.org/sites/default/files/page/paris-rules.pdf. Sponsor: The Linux Foundation, 660 York Street, Suite 102, San Francisco, CA 94110, in association with Samsung Electronics.